2012
06.14
The Battle of the Sexes is a distinctive yet interactive social event for Toronto patrons to network andparticipate in lively discussions surrounding the topics of love, marriage, sexuality, dating, andrelationships. Addressing questions such as, "What exactly is chivalry?" "Should men expect chivalrytoo?" and "Do women still deserve chivalry in the age of the Independent Woman?" are a few of the many conversation appetizers that will spark spirited debates.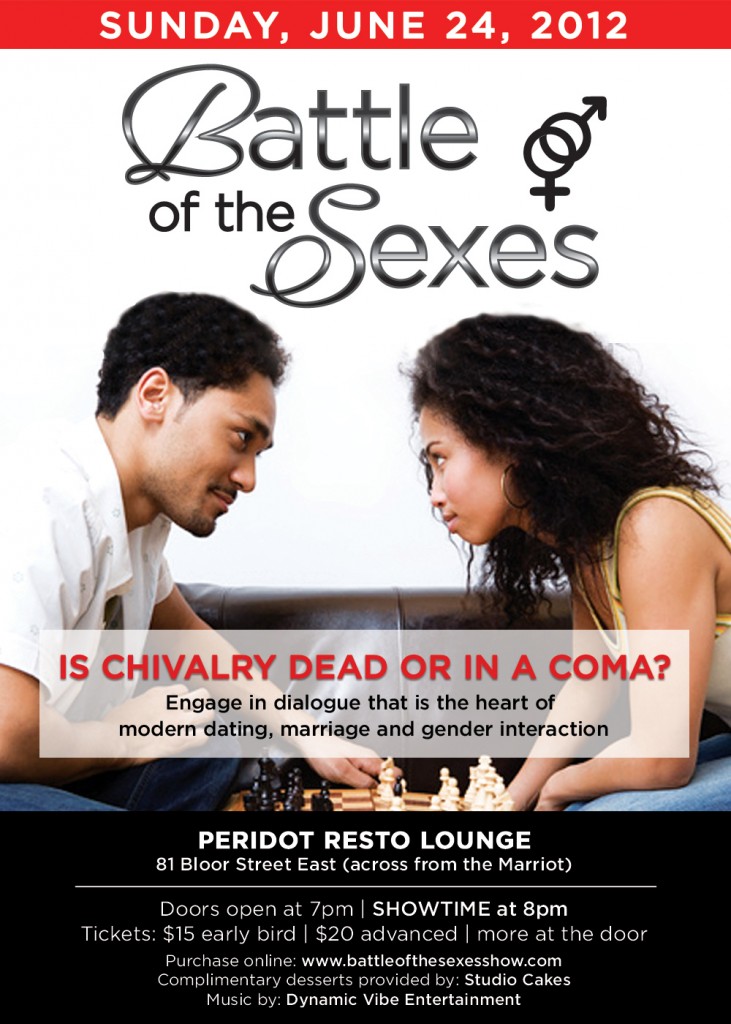 Panelists will include event founder, Telisha Ng, alongside Lincoln Anthony Blades, the opinionated creator of www.thisisyourconscience.com, and Stacey Marie Robinson, author of books such as Friends with Benefits, and I Wish I never Met Him (www.staceymarierobinson.com).
The evening will be filled with delicious desserts courtesy of Studio Cakes, alluring raffle prizes,interactive crowd games and music by Dynamic Vibe Entertainment, tons of great conversation, and much more.
Tickets are available online at battleofthesexes.com for $15 until June 12; after the early bird special, $20, and more at the door on the day of the event.
For more information visit battleofthesexesshow.com and follow the conversation on Twitter.

PREVIOUSLY: